Patriots Ready To Drop The Nuclear Bomb Of Information, Boom, Trump Confirms Next Move
As the Central Bank pushes its agenda to bring the USA into third world status, many people around the country are watching and observing exactly what the CB is doing.
The Fed/[Central Bank] have no choice but to proceed with their plan, even as the Great Reset plan has failed.
Many Americans are now seeing exactly how they are pushing their next monetary currency.
Meanwhile, the Patriots are pushing forward with their plan to expose the deep state system to the world.
Fake news is doing everything it can to spin the information, but the nuclear bomb is about to be dropped.
A judge in Georgia has now ordered the examination of ballots, and the American people will see the Arizona pattern repeated in Georgia.
Trump confirms the way forward in an interview with OAN's Chanel Rion.
Remember, sometimes you must SHOW the people so they see for themselves.
As Biden Dismantles Trump's Energy Independence Policy Look for More Gas Lines, Increased Prices and Imports Greater than Exports
While the Trump policy of energy independence is being dismantled, the US is silently becoming an energy importer again.
The Energy Information Administration predicts:
The U.S. Energy Information Administration (EIA) predicts that under the Biden Administration, the U.S. will now once again import more oil than it exports in 2021.

In the forecast the EIA states:
"…increasing crude oil imports will drive the growth in net petroleum imports in 2021 and 2022 and more than offset changes in refined product net trade. EIA forecasts that net imports of crude oil will increase from its 2020 average of 2.7 million barrels per day (b/d) to 3.7 million b/d in 2021 and 4.4 million b/d in 2022."
This is far different than in December 2018 when America became energy independent under President Trump. Many Presidents promised this, but none delivered:
Source: thegatewaypundit.com
Steelworker Union That Endorsed Biden Now Begging Him Not To End Trump's Tariff On Foreign Steel
the nation's largest steelworker union decided to endorse Biden in 2020 for some reason.
Now the very same union is begging Biden to keep Trump's tariff on foreign steel in place.
Reuters reports:
Steel industry groups urge Biden to keep tariffs in place after EU truce

U.S. steel industry groups and the United Steelworkers union on Wednesday urged President Joe Biden to keep in place the steel tariffs imposed three years ago, saying that lifting them now would undermine the industry's viability.
Back in October of 2020, this same union projected an image of the Biden-Harris logo onto Trump Tower in Chicago
Now they're begging Biden to keep Trump's policies in place.
Source: thegatewaypundit.com
---
Kentucky House members call for end to extra unemployment benefits
Source: washingtonexaminer.com
Federal Reserve Announces Next Step Toward Possibility Of Official U.S. Digital Currency
The U.S. Federal Reserve will publish a paper on the possibility of creating an official digital currency for the U.S. sometime this summer,
Federal Reserve Chairman Jerome Powell says the central bank has long had its eye on digital currencies, but the U.S. has yet to take major steps toward creating an official one.
Source: dailycaller.com
Biden Proposes Ballooning IRS With 87,000 More Employees To Deflate Tax Fraud
President Joe Biden's administration wants to add 87,000 employees to the Internal Revenue Service's (IRS) workforce
The hiring effort, spread out over 10 years
Source: dailycaller.com
Bitcoin Crashes 12% as China Reiterates Mining Crackdown
The financial committee in China has emerged with news that it will crackdown on Bitcoin mining within the country. The note released also includes a wide range of other financial risks.
Bitcoin was hit by its second piece of bearish news out of China in under a week.
This time, China's financial committee has added Bitcoin mining as a key sector to monitor in an attempt to "resolutely prevent and control financial risks."
Source: decrypt.co
---
REVEALED: Biden-Linked Investment Group Funded Chinese Military Proxy Guilty Of Stealing American Nuclear Technology
An investment firm directed by Democrat Presidential Candidate Joe Biden's son Hunter funneled millions into China General Nuclear Power Corp, a state-owned power company guilty of stealing American nuclear technology for use by the Chinese Communist Party for decades.
In 2017, a naturalized U.S. citizen from Taiwan pleaded guilty to "conspiracy to unlawfully engage or participate in the production or development of special nuclear material outside the U.S." per the Department of Justice (DOJ).
The DOJ charged Allen Ho, a consultant for China General Nuclear Power Company (CGN), with "assisting CGN in procuring U.S.-based nuclear engineers to assist with designing and manufacturing certain components for nuclear reactors" for nearly two decades.
He was sentenced to two years in prison and ordered to pay a $20,000 fine.
Ho was part of a company-wide scheme to steal and transfer American nuclear secrets – identified by the DOJ as posing "significant damage to our national security" – to the CCP-owned CGN.
BHR Partners, a private equity firm where Hunter Biden served as director since its 2013 founding, was a $10 million cornerstone investor in CGN's initial public offering (IPO). Occurring in 2014, the IPO was the second largest of the year and valued at over $3 billion.
The company still lists GCN as part of its portfolio.
BHR Partners was a joint venture between Rosemont Seneca Partners, an investment fund founded by Hunter Biden and Obama-era Secretary of State John Kerry's stepson in 2009, and the state-owned Bank of China. The billion-dollar fund was notoriously birthed less than two weeks Hunter traveled to China alongside his father and then Vice President.
While Hunter pledged to divest of his stake in the company in 2019, the Daily Caller revealed he retained shares for months after his announcement. Now, it is alleged he still owns 10 percent of the fund.
Source: thenationalpulse.com
150+ MISSING CHILDREN FOUND IN NORTH CAROLINA OPERATION
More than 150 missing and/or runaway children were located in North Carolina, officials say.
Detectives and Marshals resulted in the recovery of more than 130 missing and runaway juveniles.
Police said "several of the juveniles were discovered to have been engaged in high-risk activities such as prostitution and narcotics activity, and a few of them were victims of human trafficking."
source: breaking911.com
NOTE: SEE MONKEYWERX' AIRCRAFT TRAFFIC REPORT ON THIS.
---
War
Plagiarist Joe Biden Lied – Tries to Take Credit for Israel and Hamas Ceasefire That Was Brokered by Egypt
Biden took credit for the Israel and Hamas ceasefire — that was brokered by Egypt.
President El-Sisi in Egypt is the same leader Obama and Biden tried to take down just a few years ago and replace with the Muslim Brotherhood.
Source: thegatewaypundit.com
Israel's security cabinet approves a ceasefire of military operations in #Gaza, reportedly starting at 2 a.m. local time on May 21.
UPDATE #1 – Hamas confirms a "mutual and simultaneous" ceasefire with Israel to begin on May 21 at 2 a.m. (Reuters)
UPDATE #2 – Ceasefire will be annulled and the IDF will immediately return to military strikes if Hamas continues to fire rockets at Israel after 2 a.m. (Channel 12)
UPDATE #3 – The ceasefire agreement is completely unconditional, no commitments regarding the al-Aqsa mosque or Sheikh Jarrah, according to senior Israeli official (Kan News)
---
Netflix CEO Shells Out $3M To Stop Gavin Newsom Recall Effort
A top Netflix executive funneled millions to a fund aimed at opposing the recall effort of California Democrat Gov. Gavin Newsom, according to financial disclosures reported to the California Secretary of State
Reed Hastings, co-CEO of the multi-billion dollar streaming service, sent $3 million to the Newsom fund.
The CEO's contribution is the largest sum donated to stop the recall.
Source: thefederalist.com
Cuomo's "Vax & Scratch": New York Will Now Reward Vaccinations With Scratch-Off Lotto Tickets
the state of New York is now offering to all residents who receive the COVID-19 vaccine for the first time next week a "free state lottery ticket" in a new program dubbed Vax & Scratch (no this is not satire).
Source: zerohedge.com Poll: Confidence in Anthony Fauci Has Decreased 42.2 Percent Among Americans in Past Year
Confidence in Dr. Anthony Fauci has decreased 42.2 percent among Americans in the past year,
Respondents were asked, "Has your confidence in Dr. Fauci gone up or down in the past year?" While 42.2 percent said confidence has gone down, 22.1 percent said it has increased, and 26.1 percent said it is unchanged.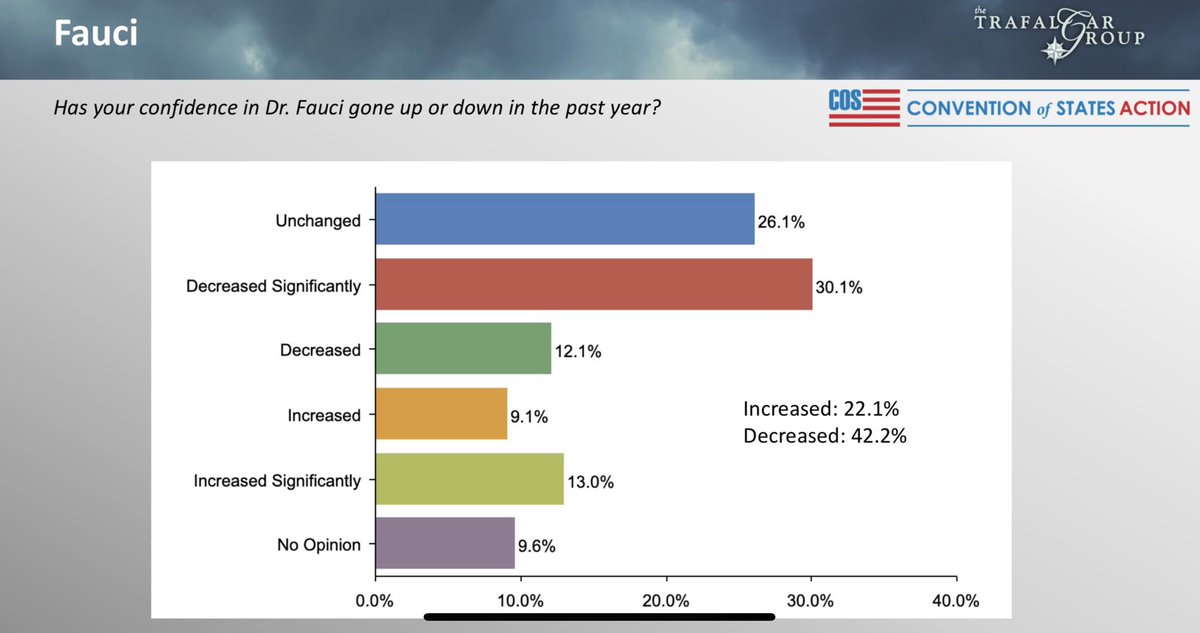 Source: breitbart.com
New Hampshire Police Arrest Maskless Parents Attempting to Confront School Board – Following Arrests Board Cancels Meeting To Avoid Parents
The requirement to wear a mask is a local school board policy, created by random fiat, not a law. The arrested maskless parents were proactively accused of 'disturbing the peace', before any disturbance could be identified.
PLAISTOW — Tempers flared at Thursday night's Timberlane Regional School Board meeting after a Sunday school teacher was arrested moments after she and several other unmasked attendees showed up to demand an end to a school mask mandate.
The meeting was planned to be held in person at the district's Performing Arts Center, but board Chairwoman Kimberly Farah quickly shut it down before it began and required that it be held remotely.
"If the public are bound to yield obedience to laws to which they cannot give their approbation, they are slaves to those who make such laws and enforce them.".. ~Sam Adams
Source: theconservativetreehouse.com
---
Gretchen Whitmer Economic Dept Blasts Election Integrity Bills: 'Designed to Intimidate Black Voters"
The Department of Labor and Economic Opportunity (LEO) published the message by the Michigan Black Leadership Advisory Council (BLAC) on Tuesday as the legislature is considering 39 bills intended to increase election security and avoid issues that occurred during the 2020 election, but the advisory group did not see it that way.
A key bill would require a voter to show an ID prior to casting a ballot.
A Strategic National survey in April said 72.1 percent of Michigan respondents supported showing photo identification prior to voting. Just 21.9 percent said they did not.
Fifty-eight percent of black respondents supported the concept. Just 32 percent said showing an ID "discriminated against some voters."
Source: breitbart.com
BREAKING: GA JUDGE ALLOWS FURTHER SCAN OF MAIL-IN BALLOT INSPECTION IN FULTON COUNTY…GROUND ZERO OF ELECTION FRAUD…CASE COULD FLIP SENATE AND PRESIDENTIAL CERTIFICATION
"A high number of ballots appear to have been counted twice," declared the expert witness. There was an error rate in the batch data of 21%"
The 'risk limiting audits' conducted previously in the state of GA by SoS Raffensperger were shown in today's hearing to be severely compromised.
Judge orders ballots unsealed. Parties to appear at ballot storage location 10am May 28th. Ballots will be scanned at 600 dpi or higher. Protocol to be determined.
Source: cdmedia.com
___
TAKE A LISTEN
Trump to Hold Rallies in Four States Soon
"We'll be doing one in Florida, we're going to do one in Ohio, we're going to do one in Georgia, we're going to do one in North Carolina," Trump said in the interview, which was broadcast on Thursday.
Source: theepochtimes.com