The people no longer believe the fake news. Each time they put out a fake story it gets worse and worse.
Trump and other world leaders have not set the plan in motion to take down the [CB] system. In the end gold will destroy the [CB].
The [DS] is continuing to fall into Trump's trap. The pandemic has ended, the people are learning the truth and Truth Social has been launched.
It is almost time to release the insurance policy, the people will begin to make noise, they will call the storm and the rain will come. The people will begin to learn the truth that the entire system is rigged and the people running our country are criminals.
The clock is ticking and the fall of the [DS] is about to happen.
Here It Is: CBS News Claims 'Ukraine Crisis' is to Blame for Increased Gas Prices, Inflation, Supply-Chain Issues
The fake news media has been given their 'how the Ukraine crisis is hitting Americans' wallets' talking points by the Biden Regime.
"Yeah!" Psaki When Asked if Americans Should Expect Higher Gasoline Prices From Russia Sanctions (VIDEO)
White House Press Secretary Jen Psaki on Tuesday echoed Joe Biden and said Americans should expect higher gas prices from Russia sanctions.
On Joe Biden assured American consumers that the price of freedom in Ukraine means gas prices could go higher.
Gas prices were going up because of Bidens policies, if this is a problem why don't they restore the keystone pipeline, reinstate the leases.
Just a friendly reminder that Biden lifted Trump's sanctions on Russia's Nord Stream 2 and then crushed our own (Keystone pipeline) here in the States.
A majority (58 vs. 28 percent) of voters would find President Biden responsible if the Russian/Ukrainian conflict increases American gas prices, a Wednesday Politico/MorningConsult poll found.
Even small donations to Freedom Convoy after Feb. 15 are enough to have donors' bank accounts frozen, finance committee told
'We had to take extreme measures to freeze the accounts to basically discourage people to fund illegal activities'
Even a $20 donation to the Freedom Convoy after Feb. 15 could result in the donor's bank accounts being frozen, a Commons committee heard Tuesday.
Source: thenationalpost.com
El Salvador already has $500 million in verbal commitments for its billion-dollar 'meme' bitcoin bond — and $5 billion in more bonds could follow
El Salvador has already gotten $500 million in verbal commitments for its bitcoin-backed bond.
The bitcoin bond was announced in November, with half of the funds to be used for more bitcoin purchases and the other half for energy and bitcoin mining infrastructure.
El Salvador is even thinking about raising as much as $5 billion more in bitcoin-backed bonds in the future, the Journal reported.
Source: markets.businessinsider.com
Leaning on the tyrannical powers of his 'Emergency Act', Canadian PM Trudeau has seized Go Fund money and frozen bank accounts from ordinary people whose sole 'offense' was to donate to the trucker movement.
When it came time to try to seize Bitcoin wallets belonging to 'dissidents', things went far from smoothly for them. Crypto has shown how decentralized value exchange systems can change the game.
An Ontario Court tried to get a 'self-custody crypto wallet provider' to turn over user information from these people, and freeze their Bitcoin assets.
The answer was this:
That is the whole point of Crypto – to take the financial power away from the state and big corporations, and give it back to the individual investor.
Source: paulserran.substack.com
Almost 98% of Los Angeles prosecutors vote to recall Soros-backed District Attorney George Gascón
A vote of Los Angeles prosecutors found an astounding 97.8% supported the recall of their boss, District Attorney George Gascón.
"It's been one year of Gascon's social experiment," said LAADDA vice president Eric Siddall to Fox News Digital. "I think after that one year, people have had time to evaluate whether this is working or not working. I think most people who actually live in Los Angeles [and] understand what's going on in Los Angeles, including the political leadership here in LA, feel that this has been a miserable failure."
Source: theblaze.com
Word to the Weiss: Why the Delaware U.S. Attorney is Still Calling People Before a Grand Jury on Hunter Biden
For over two years, Weiss has been investigating tax and financial issues connected to Hunter Biden's foreign dealings. Biden has engaged in some of the most open and raw influence peddling schemes in history.
Weiss is calling witnesses to testify on Hunter's lavish lifestyle and spending habits, including a former stripper who Hunter impregnated. Lunden Roberts spent years fighting to get child support, even as Joe Biden was running for president. A court finally forced Hunter to support his child.
Also called was ex-girlfriend, lingerie entrepreneur Zoe Kestan. She testified for five hours on Tuesday, the New York Post reported. Kestan reportedly detailed how Hunter would withdraw thousands of dollars and spend wildly during their relationship.
What is striking about these witnesses is that they are the type of witnesses that poison both grand juries and trial juries against a defendant. Such lavish spending details were used by the Justice Department against figures like Paul Manafort. More importantly, the testimony appears directed at showing that Hunter had far greater income than reported. That is a curious effort if Biden has "come clean" on simple reporting errors for taxes.
Weiss clearly has Hunter's laptop, which details millions in foreign payments as well as lavish gifts and expense accounts.
Source: jonathanturley.org
Carey R. Dunne and Mark F. Pomerantz, the two prosecutors, submitted their resignations
DT chosen to help create global heath passport
The World Heath Organization, which had such a great pandemic, wants to 'facilitate' its 194 member states to introduce digital vaccination certificates. To do so it's setting up a 'gateway' to standardize the issuing of QR codes that confer privileged health status to their owner. Deutsche Telekom subsidiary T-Systems has been chosen as an industry partner to develop the vaccination validation services.
Source: telecoms.com
Adults in Chicago No Longer Required to Wear Masks to Bars, but Kids Will Still Have to Wear Them All Day at School
Chicago Mayor Lori Lightfoot has announced that mask mandates for many indoor spaces will be lifted next week — but not in schools.
People will also no longer be required to show proof of vaccination at places like bars and restaurants.
Source: thegatewaypundit.com
Maryland drops mask mandate for schools
On Tuesday, the Maryland State Board of Education voted to remove the statewide school mask mandate starting on March 1.
Source: postmillenial.com
Coronavirus: Face masks could increase risk of infection, medical chief warns
'For the average member of the public walking down a street, it is not a good idea'
Members of the public could be putting themselves more at risk from contracting coronavirus by wearing face masks, one of England's most senior doctors has warned.
Jenny Harries, deputy chief medical officer, said the masks could increase infection .
Source: .independent.co.uk
BREAKING: Federal Judge in Tampa has BLOCKED enforcement of Biden's vaccine mandate for the U.S. military
17,000 Physicians and Medical Scientists Declare "COVID National Emergency Over" and Call on Congress to Restore Constitutional Democracy by Ending Emergency Powers
The International Alliance of Doctors and Medical Scientists announced their support to end the national emergency concerning COVID-19 as it is no longer necessary to protect public health.
After two years of scientific research, clinical data and evidence from frontline medical professionals treating hundreds of thousands of patients, the international alliance of more than 17,000 physicians and medical scientists have concluded that the highly treatable COVID-19 illness, which is better addressed with natural immunity and proven medication, no longer requires national emergency status.
Vaccines have failed to reduce spread of COVID-19 and pose several health risks, while natural immunity for children and healthy adults has proven more effective. Moreover, treatment protocols that use well-studied, FDA approved medications are now proven to be effective in preventing severe illness and death from Covid-19.
Source: globalcovidsummit.org
More evidence Covid was tinkered with in a lab? Now scientists find virus contains tiny chunk of DNA that matches sequence patented by Moderna THREE YEARS before pandemic began
Genetic match discovered in Covid's unique furin cleavage site on spike protein
Matched genetic sequence patented by Moderna for cancer research purposes
Researchers say one in 3trillion chance Covid developed the code naturally
Source: dailymail,.co.uk
Poll: 83% of Voters Expect Crime to Be an Important Issue in Midterm Elections
Most voters think "crime is getting worse in America," and 83 percent believe it will be an important issue in the midterm elections, a Rasmussen Reports poll released on Tuesday found.
According to the poll, 65 percent of voters think violent crime in America is "getting worse." Only 11 percent think crime is improving, and 22 percent say it is staying the same
Source: breitbart.com
BREAKING EXCLUSIVE: Roger Stone Sues Adam Schiff and the Jan 6 Committee
I JUST SUED ADAM SCHIFF AND THE JAN 6th COMMITTEE
I just hung up with my lawyer. I instructed him to file a lawsuit against the January 6th Committee. It's time that someone put an end to this fishing expedition and witch hunt.
I took this action because the illegally constituted January 6th Committee egged-on by Congressman Adam Schiff has issued a Subpoena for all of my cell phone records despite the lack of any evidence that I was involved in any way in the tragic events of January 6th!
Source: thegatewaypundit.com
America's People's Convoy gets ready to roll! One thousand trucks begin 11-day drive from California to D.C. TODAY to protest COVID mask and vaccine mandates
As many as 1,00 truckers are expected to participate in the People's Convoy protest which is leaving California on Wednesday to embark on an 11-day trek to Washington DC
The People's Convoy has called on the federal government to end the National Emergency enacted at the start of the pandemic, which President Joe Biden extended on Friday despite calls from Congress to end it
Organizers and participants argue the ongoing COVID-19 restrictions and mandates are unconstitutional and claim the 'government has forgotten its place'
The organizers also claim the convoy is 'about freedom and unity,' noting the truckers are 'riding unified across party and state lines and with people of all colors and creeds'
The cavalcade will set off from the Adelanto Stadium at midday PST Wednesday and will make several stops across the nation, before its anticipated arrival at the DC Beltway on March 5
People's Convoy organizers claim they do not intend to disrupt roads or bridges, like the Canadian Freedom Convoy protest did, however some truckers are swearing to disrupt traffic in the nation's capital
The District of Columbia government – including Democrat Mayor Muriel Bowser – and the U.S. Capitol Police are requesting the National Guard assistance
DC leaders have also increased police presence in the city and plan to reinstall the fencing that surrounded the Capitol complex for much of 2021
Source: dailymail.co.uk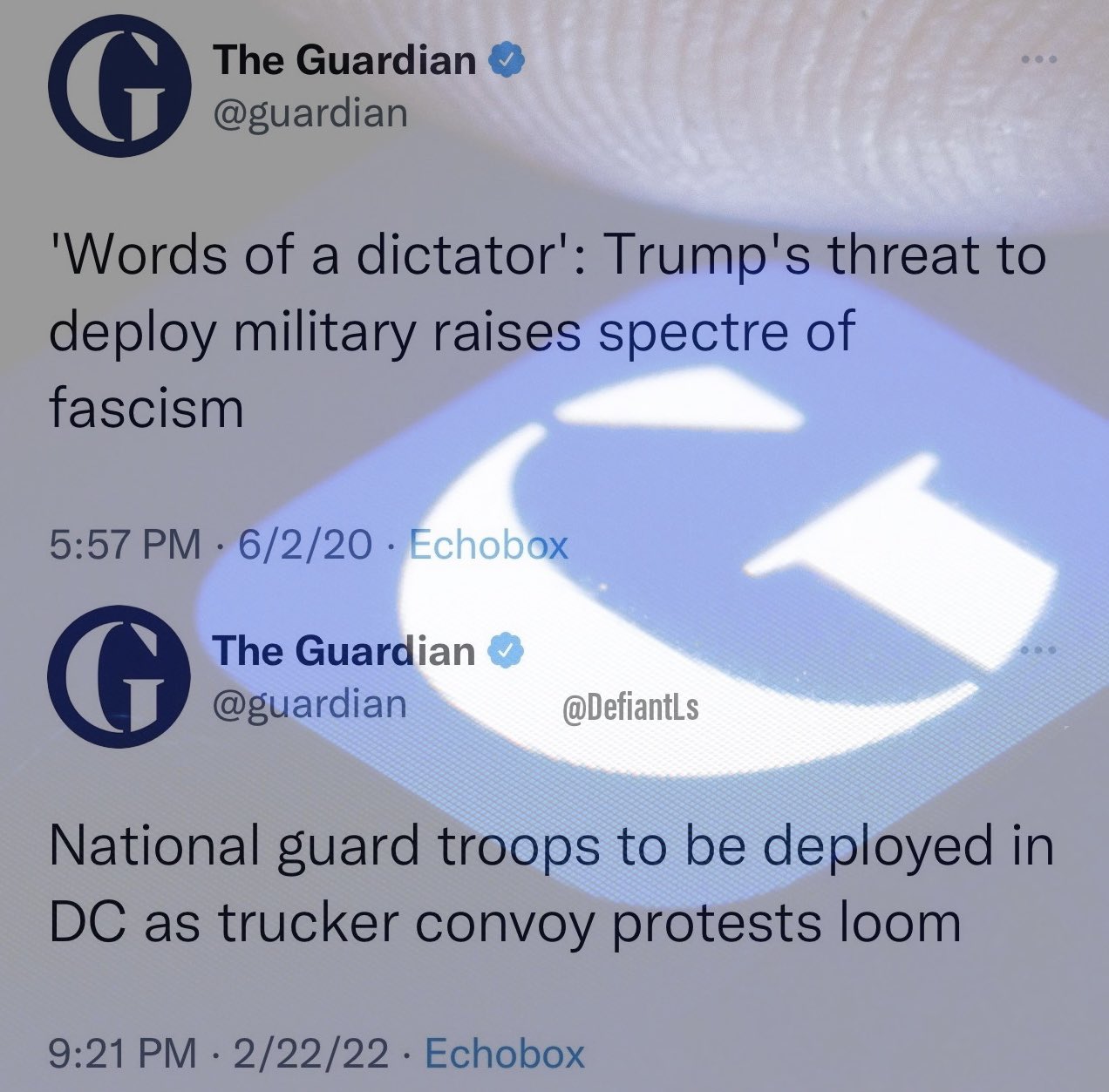 828Q !UW.yye1fxo ID: 85cc02 No.544060

Stay TOGETHER.
Be STRONG.
Get ORGANIZED.
Be HEARD.
FIGHT the censorship.
You, the PEOPLE, have ALL the POWER.
You simply forgot how to PLAY.
TOGETHER you are INVINCIBLE.
They want you divided.
They want you silenced.
MAKE NOISE.
We are WITH you.
MAKE IT RAIN.
Q
830Q !UW.yye1fxo ID: 85cc02 No.544206

What I say a class action lawsuit?
When is it effective?
Who controls the narrative?
BOOM.
Q
833Q !UW.yye1fxo ID: 9dc69f No.544501

Reality is labeled as conspiracy.
You are made to feel crazy.
You are told to obey.
You are SHEEP to them.
Pawns to be sacrificed.
REMEMBER, WE ARE WINNING, DO NOT TRUST WHAT YOU READ.
MIND WARFARE.
UP IS DOWN.
LEFT IS RIGHT.
BOOM.
Q
2914Q !!mG7VJxZNCI ID: 388cb1 No.5471098

Emphasis on mistakes not corrected.
"Time to start looking at the other side where real crimes were committed." – POTUS
Time to reveal our insurance policy?
TRUTH always wins.
Q
2915Q !!mG7VJxZNCI ID: 388cb1 No.5471177

https://twitter.com/HillaryClinton
Your T-banner is appropriate and fits you well.
Q